Aesthetic Dentistry and our phobia of dentists and the Irrational fear of dentists amongst Singaporeans.
A smile is often the first thing people notice and the last thing they remember. Smiling makes a person more attractive and approachable. A theory called the 'facial feedback' hypothesis claims that facial movement can influence emotional experience. What it means is an individual may actually be able to improve their mood by simply smiling! In fact there are many reasons to smile about but in the same breath, admittedly, there are also perhaps as many reasons not to.
The Role of Aesthetic Dentistry in Singapore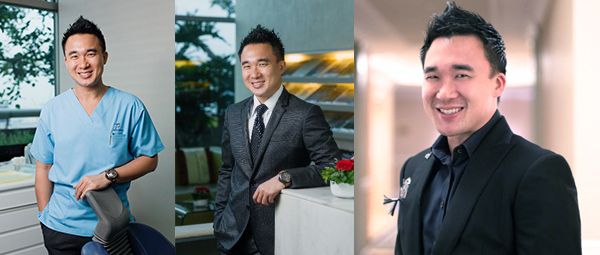 The role of aesthetic dentistry in society has become more prominent as people seek solutions to improve their (gum) health and beautify themselves. Dr Gerald Tan, President of the Aesthetic Dentistry Society of Singapore (ADSS), Cosmetic Dental Surgeon and Smile Design Expert noted that the lower one-third of a person's face – comprising among others, the smile, dominates the first impression of a face which explains why aesthetic dentistry is important and seeing a rise in popularity. He believes that medical aesthetics complimented with aesthetic dentistry would provide a more holistic and complete makeover treatment for an individual seeking to fulfil their beauty goals.
Dr Gerald Tan is the youngest person to hold office as the President of The Aesthetic Dentistry of Singapore (ADSS). The ADSS goal is to promote the awareness of Aesthetic Dentistry in Singapore and the region. The society promotes the profession of aesthetic dentistry by enhancing the integrity and ethics of the profession and strengthening the patient/dentist relationship.
In his capacity as the President of ADSS Dr Tan (who also has special interest in Cosmetic Dentistry and Dental Implant Surgery) ensures the society's directives are adhered to and goals are met.
Teeth Whitening & Computerized Dentistry
According to him, amongst the popular treatments sought out by patients is Teeth Whitening, due to its reputation of being safe and effective. For those afflicted with serious dental issues or who are looking for a more aggressive treatment, solutions come in the form of procedures such as aesthetic gum surgery and porcelain veneers. In a nutshell, there are different types of aesthetic dental treatments that cater to the different needs.
Science and Technology is constantly evolving and aesthetic dentistry is not excluded. Dr Tan reveals the rise in the trend of ceramic fillings being used to replace old amalgam or mercury fillings in teeth. An interesting point that he made was the increase in patient's request for Computerized Dentistry.
Basically, this is a dental simulation where a dentist is able to generate "before and after" situations and allows the patient to have a better understand of the procedure and the possible end result. Dr Tan points out that computerized dentistry is an area that deserves attention especially as we head into the future. He however still believes that best results can only be achieved by fusing this technology and the traditional hands-on methodology and value.
Irrational fear of dentists amongst Singaporeans
Interestingly, there is an irrational fear of dentist amongst Singaporeans. This fear is perhaps due to the stigma of pain being associated with a trip to the dentist. Dr Tan hopes that through efforts of The Aesthetic Dentistry of Singapore (ADSS), the general public would be better educated on the current state of dentistry and how it has transformed over the years.
Leaving a lasting and indelible impression is about the precarious balance of looking good and savvy social skills. Looking good is not only about the body but the entire physical being and most often than not, first impressions are formed from the face.
Written for Aesthetics Hub.