"A champion is someone who gets up when he can't."
 – Jack Dempsey
Everybody wants to be a champion until its time to do what a champion does. The sacrifices and hard work often goes unseen but they are the very essence that separates Man from men.
Fresh off his back-to-back professional fight wins, Singapore boxing every own Muhd Ridhwan took sometime out to speak to us.
Why Boxing?
Because it is super hard to do.
I started boxing when I was 16. I had my first fight in a local event that took place just after 4 months of training. It so happens that I was making my way to the gym (Kadir's Boxing School) and I told myself this will be my last training session as I was getting bored of the routine. This was only after 1 month of training. But as soon as Coach Kadir saw me getting changed to start training, he asked if I would like to fight. Of course I said yes! But at that time, I have no idea what this meant. In my mind, I assumed that it will be easy. I was confident that I was going to win despite going into the fight with minimal fitness and punching abilities. Turned out I was wrong because I got beat, cried and lost the fight. I got no defence and ended up blocking punches with my face! Hahahaha!

What was your first boxing class like?
I started out at Kadir's Boxing School when it was still located at the old People's Academy. My first boxing class involved sweeping away the dry leaves around the training ground. That became like a warm up and I felt like a Shaolin student.
Apart from that, all I did was skipping, footwork and the basic 1-2 punch combinations. I did this routine for 3 months actually and never punched a heavy bag at all within this period.
You train, compete, coach and run a gym. What do you do to recharge when it gets a little overwhelming?
It's difficult but I will always remind myself of how it was when I started boxing years ago and how I've always dreamt about being where I am today – to be able to train, compete and run a gym. I wasn't financially strained but what I had was just enough to live on. Now, I see what I do as an opportunity to give back, improve the lives of others and myself. The battle is not over yet and it can still be a struggle. BUT I'm a fighter and all I've known is to fight in the ring, fight for my dreams, family, beliefs and for the people that mean the world to me.
When it gets too overwhelming, I'll go get a burger or prata and eat by myself. It's very relaxing in a weird kind of way because I end up smiling by myself like as if there is a hot chick in front of me telling me how good looking I am but I'm just smiling because of the burger or prata. Hahahaha!
Most would remember victories but yet even in defeat there are plenty to learn from. What were some of your memorable moments in the ring?
My first amateur fight is the most important and memorable. Because of that lost, I decided to show up at training the following Monday; trained harder and here I am today, still training and competing. That lost taught me a lot about myself.
Losing the SEA Games bout in Singapore against a Thai boxer is also memorable in a heartbreaking kind of way. I trained and dedicated my whole life towards that goal and I didn't reach it. After that I didn't know what to do with my life. Then I decided to turn professional.
Take us through a typical day in the life of #TheresOnlyWan when you're not preparing for a fight.
Hmmmm… I seem to always be preparing for a fight and even if I have no scheduled fights, I will still be at the gym training working on my craft.
But on days when it permitting maybe I'll wake up slightly later in the morning, have breakfast, head over to the gym and sort out work stuff making sure everything is ok and basically just be around watching or helping people with their training. And oh! If I have little extra time in hand, I'll go to the movies.
Turning professional – many dream about it but what is it like? Am sure there are people who are on this journey with you as well to get this far.
It involves a lot of hard work and sacrifice. I'm still new at this and am consistently learning how to fight as a pro in the ring and how to carry myself as one outside of it. I don't see myself as a hero or role model because I believe there are more people who do greater things for mankind that never get acknowledged. I am blessed to be able to do what I do and I just want to enjoy this part of my life while I still can. I have a list of people whom I'd like to thank as well for the constant encouragement and belief.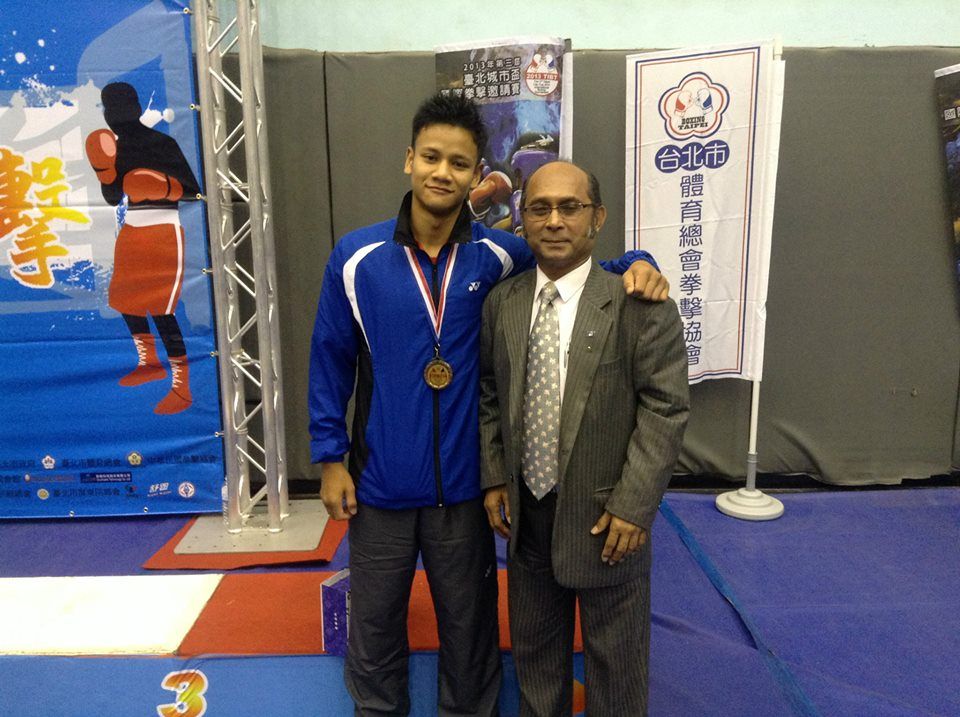 I want to thank my mother for showing me what being a fighter in life is really about. Coach Kadir for supporting me in his own quiet ways even after I've left the amateur scene. I want to thank my coach, Rey Caitom, for training and sticking by me through the tough times because it's not easy to start this journey especially with limited finances and resources. He believes in me and for that I will continue to give my 110% each time in training.
I trained and began my pro career in Cebu at the famed ALA gym and I have to thank the boxers and coaches there for I have learnt a lot of life lessons and cool tricks from them.
And of course I want to thank you Kees for this write up and always have nice things to say about me. And to everyone out there who continue to buy my t-shirts, tickets to my fights and always watch out for me. The people at Legends Fight Sport for always being by me through the highs and lows.
I've been boxing for 13 years and maybe that is not a long time. But in these 13 years, so many things have happened in and out of the ring. I have won difficult fights and lost important ones. Had a really bad back that almost forced me to retire from the sport, spent my savings entirely on boxing and many times was left with very little. Important people have walked in and out of my life. The ones who say I'm not good enough and left me when I was at my lowest. The people who continue to doubt me and want to see me fail. I thank all these people as well for making me realize what truly matters in life.
What's next on your fight schedule brudda?
I will be fighting in Singapore Fighting Championships 3 happening on 10 June 2016. We got the tickets at Legends Fight Sport and are selling them at only $45 each! This will be my 3rd pro fight, first time fighting in Singapore as a pro and it will be a 6 rounds fight but my coach and I are planning to finish it quicker and have an early night; because we both have to work the following morning!
There's no yellow brick road that leads to greatness. It's a rocky path ladened with blood, sweat and tears. Not many will reach the destination but for Ridhwan, it's about the journey and knocking back whatever comes one at a time. #THERESONLYWAN way to the top.
Photos: Ridwhan and Legends Fight Sport
To stay connected with Ridhwan and Legends Fight Sport click here.
To find out more about Singapore Fighting Championships click here.