The Asia Fashion Summit (AFS) 2013 day one has an array of guest speakers and fashion leaders from around the globe examined and discussed issues pertaining to the fashion business.
The evolution of the cloth from a necessity to protect ourselves (and modesty) from the elements to what it represents today reflects the vast influence and affluence Man has accumulated throughout the ages.
Traditional wear and customs for example has influenced designers and via catwalks all over the world, people are educated about certain cultures they wouldn't otherwise have known about. Clothes representing symbol of wealth and status as well are more often than not worn more regularly and have become almost a necessity even, in these modern and competitive times.
Held at the Raffles City Convention Centre Singapore, the event featured top executives from global brands including LVMH, Abercrombie & Fitch, Bata, Goods of Desire (G.O.D.) and Galeries Lafayette.
Touted as Asia's premier conference fashion and retail business conference and organised by the Textile & Fashion Federation (TaFf) Singapore, the Asia Fashion Summit conference is now in its 4th year and the theme for this year is Asia's Fashion Moments.
Benny Pua, President of Textile and Fashion Federation (Singapore) & Steve Newbold, General Manager for Top Right Group and WGSN Asia Pacific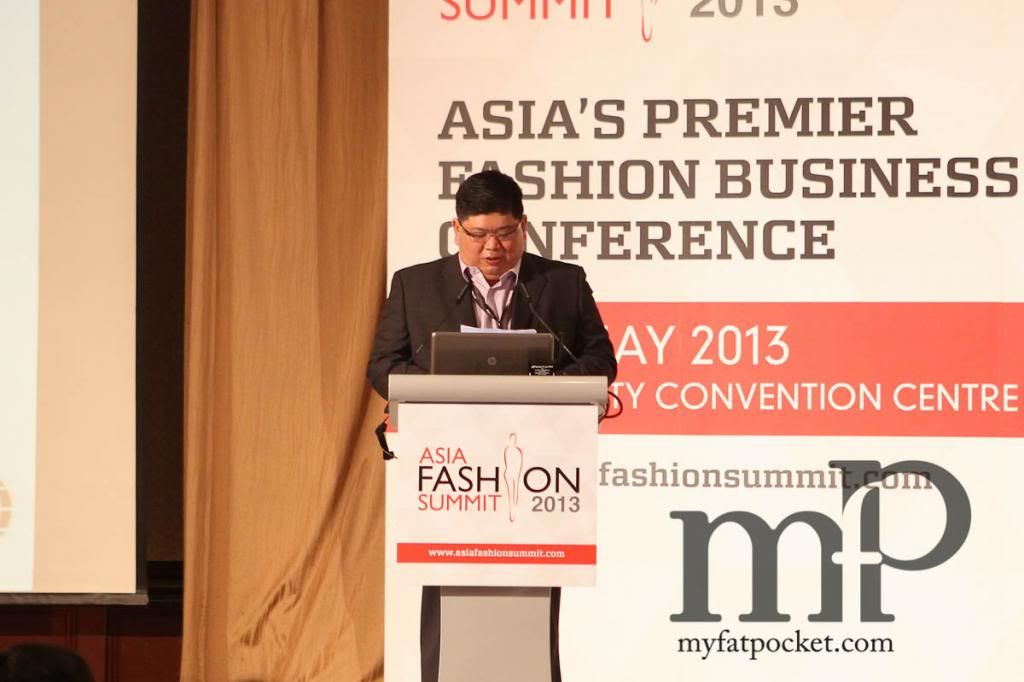 Asia Fashion Summit 2013 Day One was hosted by WGSN, the worldwide leader in fashion trend forecasting. In their welcome addresses; Benny Pua (picture above), President of Textile and Fashion Federation (Singapore) and Steve Newbold (picture below), General Manager for Top Right Group and WGSN Asia Pacific touched on the business potential that Asia holds.
"Asian designers are hot properties and asian consumers are being wooed," – Benny Pua.
The need for business entities to be more agile and competitive – especially in Asia – is even more crucial now, to stand out from the competition as brands are continuously wooing the region's consumers. With Asia's designers gaining traction on international catwalks, the competition for a piece of the Asian market pie is as fierce as it is healthy for business.
"This summit is about how you can gain a competitive edge over your competitors" – Steve Newbold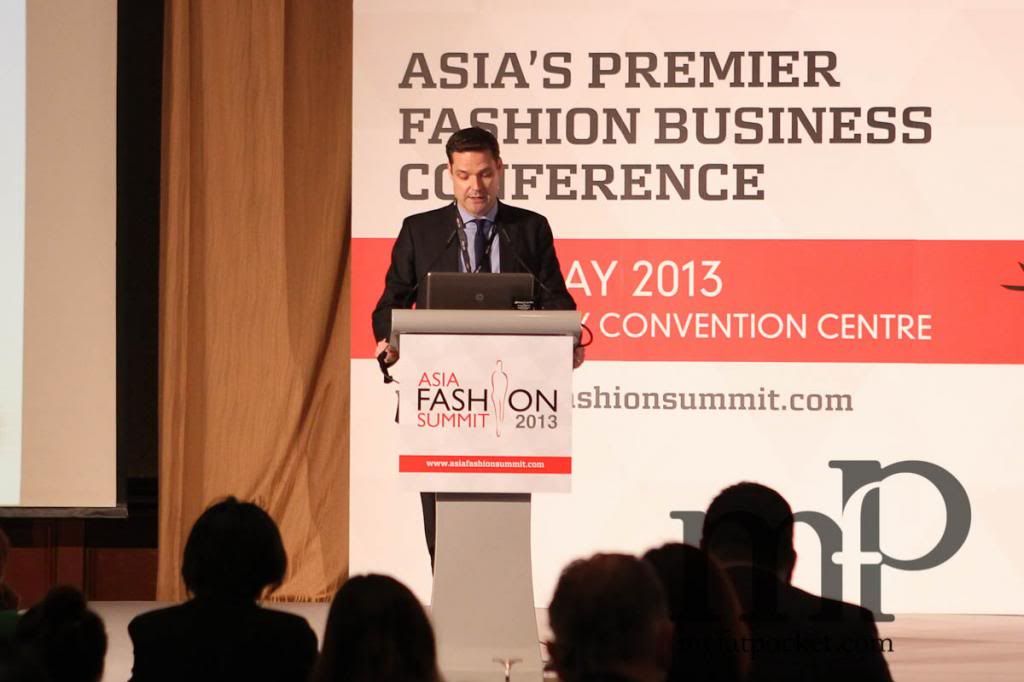 Participants were also reminded of the networking opportunities Asia Fashion Summit (AFS) 2013 summit has to offer and with a 20 percent increase in participation this year; a wealth of ideas and knowledge awaitsto be exchanged and shared.
Ruth Marshall-Johnson, WGSN's Head of Consultancy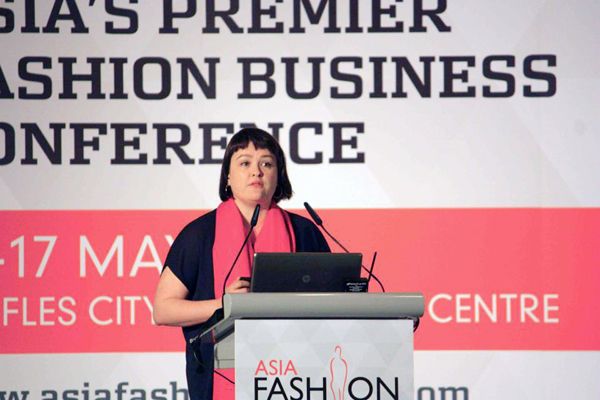 In a keynote presentation, WGSN's Head of Consultancy Ruth Marshall-Johnson spoke about a certain generation of consumers. The Millenials (those born between 1982 and 1993) are the important group of customers whose opinions and views need to be heard.
With knowledge via the information highway easily available at a click and spending power capabilities, the concept and needs of the modern people have changed. They need both better products and more relevant retail and the Millenials are the new modern people fashion businesses should target and focus on.
Legendary Service was a key point highlighted in her speech giving an example of Topshop's personal service as a fashion equivalent to Apple's genius bar. Digital concierge technology alongside personalised service are two (of many) factors that can enhance the new modern customer's shopping experience and lead the path to a brand's success. The 'new' space concept of lesser inventory and more space reflects the change happening to physical stores. Citing the brand Desigual as an example, she explains how its store concept invokes a more of a hangout and play feeling which enhances customers shopping experience while stressing that more thoughts should also be given into store designs for men.
"Big data is only going to get bigger," – Andrew Jobling, Senior Business Editor at WGSN on Holistic Engagement.
Saying thank you is a practise that should never be overlooked, for an act of gratitude as such goes a long way in building brand loyalty in a customer. Consumers according to Ruth, still wants to be seduced by fashion so it is therefore vital to understand their needs and aspirations. Burberry, in its continual pursuit to stay competitive, hires people below the age of 30 to better understand and learn about consumers in this age group. The Millenials are innovative, social and caring; therefore an ethical business practice goes a long way. Ethics also extends to the staff as people want to work with brands that are involved in such practices or causes.
Ruth further also touched on the subject of digital and physical stores. Retailers are continuously finding existing channels to advertise and reach out to consumers; and refining these existing channels to adapt to current global demands, will give a brand an edge over its competitors. Digital displays and in-store iPad kiosks amongst others are attractive and functional features that can elevate a brand's service standard.
Taking the experience out of the physical shop by engaging consumers on social media platforms such as Twitter, Facebook and having an online store are examples of existing avenues for virtual retail space that brands have been utilising. Twitter now has a standalone app that allows users to create and share six-second looping video clips which creates a more personal experience. Brands utilising this feature find themselves reaching out to more potential customers especially the mentioned Millenials.
"They (the consumers) enjoy the physical connection, using old school charm. Consumers still want to be seduced by fashion" – Ruth Marshall-Johnson
The success of a fashion label and business (in particular) is not only dependant on its designs. Amongst other things, a solid foundation needs to be in place to nurture growth to and gain brand recognition. This foundation includes service staff on the sales floor; as being on the frontline, they interact directly with customers. One of the key challenges retailers face is staff retention. Addressing this issue calls for the right training programme and rewards system to instil a sense of brand loyalty and belonging amongst staff.
Nehal Medh, Managing Director, GfK Consumer Experiences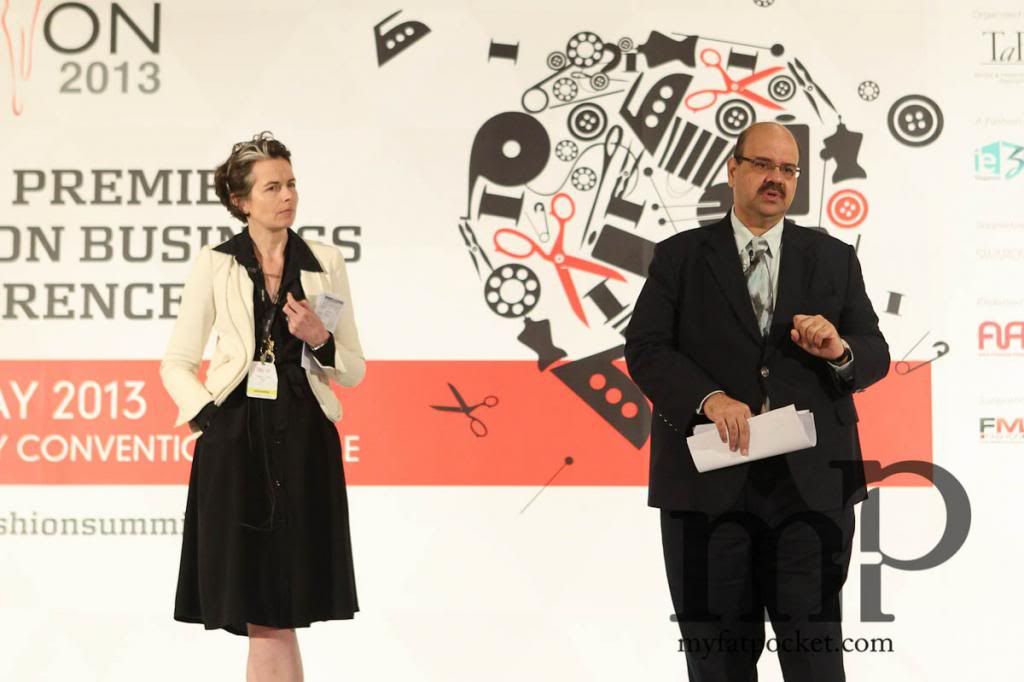 In a light-hearted moment during his speech, Nehal Medh Managing Director for market research firm GfK Consumer Experiences, revealed the typology of service staff based on findings from a specially commissioned "Mystery Shopper" study. From the Ninja whose stealth and silence can be an issue for potential customers seeking help on a product to the Android who's very systematic and precise in engaging his duty but otherwise lacks warmth to the aptly named the Best Friend, who takes a personal interest and is able to anticipate a customer's needs.
An important find in the study showed that much needed improvements are needed in catering to weekend traffic. The study done across the board from Departmental Stores to High-End Luxury Boutiques identified customer service issues that need to be addressed and improved on.
"Managing just the physical parameters are not enough. Catering to weekend traffic has to be addressed." – Nehal Medh
SERVICE STAFF TYPOLOGY: Departmental
The Ninja: Appears and disappears as please, speak sporadically, apart from this, they don't exist
the Troll: Not bothered by outer appearances, shows displeasue when outcome seem disfavourable, has attitude
The Fairy godmother: Have to call our to her when you need help, genuine in help, helpful, personable and genuine
The Soldier: Precise in executing duties, knowledgable, knows his role and sticks to it, impersonable
SERVICE STAFF TYPOLOGY: Luxury
The Wallflower: Stands and observes, minimal interaction, friendly and genuine in service delivery
The Android: Does everything systematically, precise in executing duties, lacks warmth
The Star: Proactive in action, customer centric, friendly and genuine in service delivery
The Best friend: Takes personal interest in customer, friendly and genuine, anticipates customer's needs
Simone Pederson, Founder of Red Scout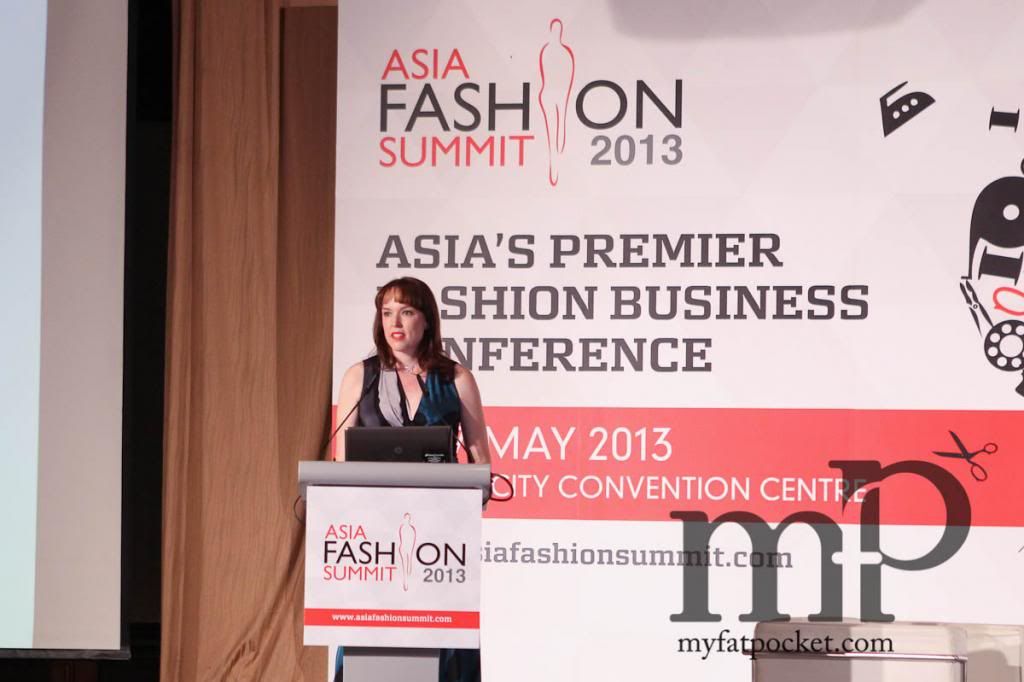 The importance of service staff was also the point in a speech delivered by Simone Pederson, founder of Red Scout. Together with Parkson (Malaysia's largest department store), Red Scout specially developed the Parkson Star Service eLearning Course in a bid to improve and provide exceptional customer service.
The 7-Step Online Module which includes: Ready for Service, Acknowledge and Greet, Identify Customer's Needs, Advise Solution, Plus Selling, Close the Sale and Post Sales Service is a revolutionary training method which equips each sales person to provide each customer with a consistent and thorough level of service. The success of this training programme is evident with endorsements by major retailers in the industry.
Lorenzo Petrillo, Store Concept Development Manager for Bata and Ann Kositchotitana, Founder and Managing Director of Front Row Group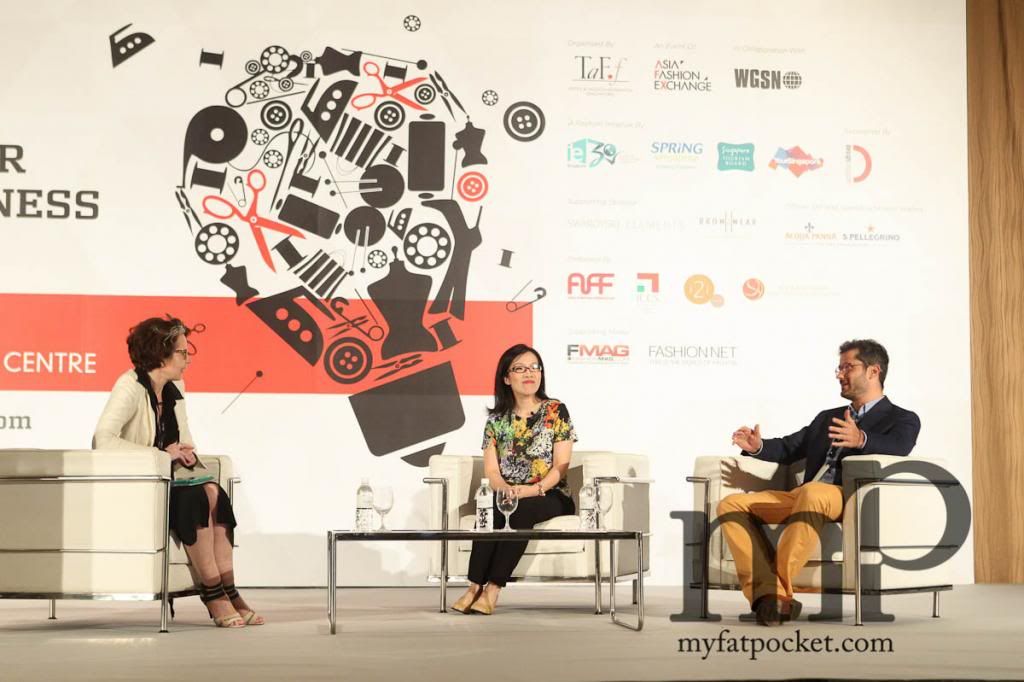 'Our Customer, Our Master' is Bata's motto. Lorenzo Petrillo, Store Concept Development Manager for Bata shared insights into the history and practise of the global footwear manufacturer's longstanding empire. Physical aspects like shop layout that creates and presents easy accessibility and after sales service that includes home delivery for missing sizes are part of Bata's success formula.
The brand's online presence that includes China's Weibo emphasised the importance of the China market as part of Bata's global presence.
Sales staff form an integral part of a retailer's business and Bata acknowledges recognises this importance and it considers its sales staff as ambassadors. For Ann Kositchotitana, product knowledge is important. The Founder and Managing Director of Front Row Group send her staff to events and parties to better understand customers.
She stressed that it is vital for example, to analyse the range of attire worn to suit different events and occasions as this would enable the staff to gain the confidence of customers; better to help them piece an outfit together. In an essence, it is important to communicate with customers in their language. The panel session that followed reiterated the points brought by both speakers.
Douglas Yong, Founder and CEO of the brand Goods of Desire (G.O.D.)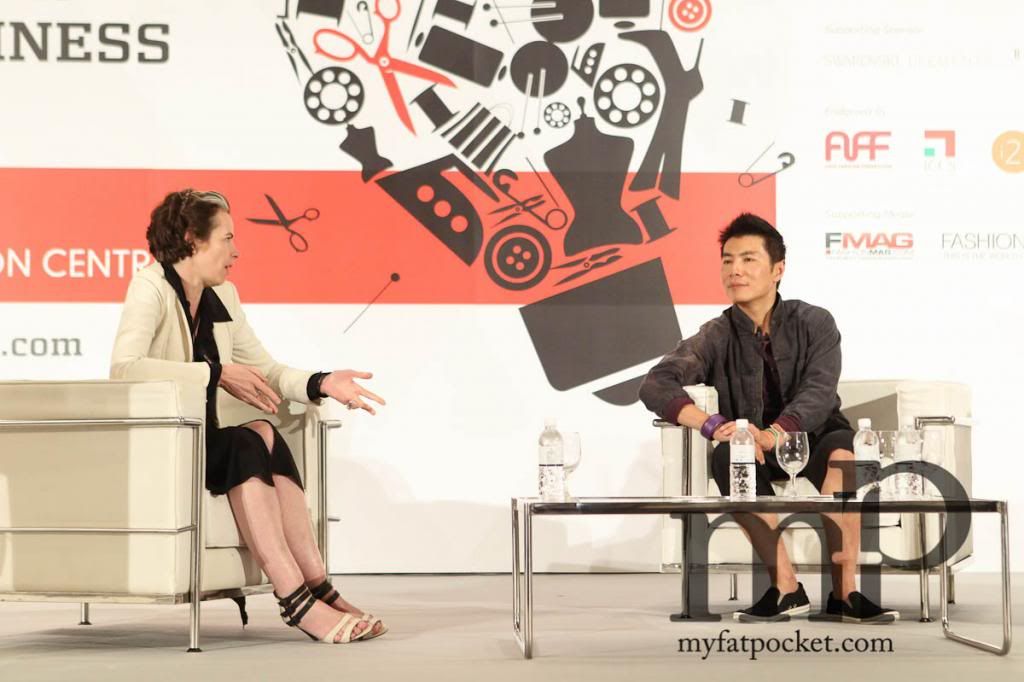 True to its Asia's Fashion Moment theme, the summit featured the likes of Douglas Yong, Founder and CEO of the brand Goods of Desire (G.O.D.) who had the participants in his hands with his anecdotes and quips while sharing valuable insights about his company and its brand identity. He spoke about evolving the Chinese culture into the 21st century which fits in well with the rising disposal incomes across many Asian economies that is attracting more and more international competitors into Asian markets.
From the practicality and versatility of the Chinese (Men's) jacket to the modernised brocades, his often animated delivery had participants literally in stitches reaffirms his status as not only an inspiring designer but a savvy business person to boot.
Giordano International Limited's Dr. Peter Lau also took to the podium and shared information on winning the Asian fashion consumer, something which his brand has been doing successfully throughout the years. Using his brand as an example, he stressed the key in remaining competitive is to stay relevant.
Stephanie Phair, Managing Director of The Outnet.Com, Malcolm Pinkerton, Senior Ecommerce Analyst of Planet Retail and Zalora's Southeast Asia's Managing Director Harry Markl
Online stores are de rigueur these days. An online presence helps a brand reach out to consumers where physical stores don't exist and having a 24 hour access is an added value both for business and customer shopping experience.
According to The Outnet.Com, the success of its online portal is the result of understanding consumers' needs and well-designed service experience online.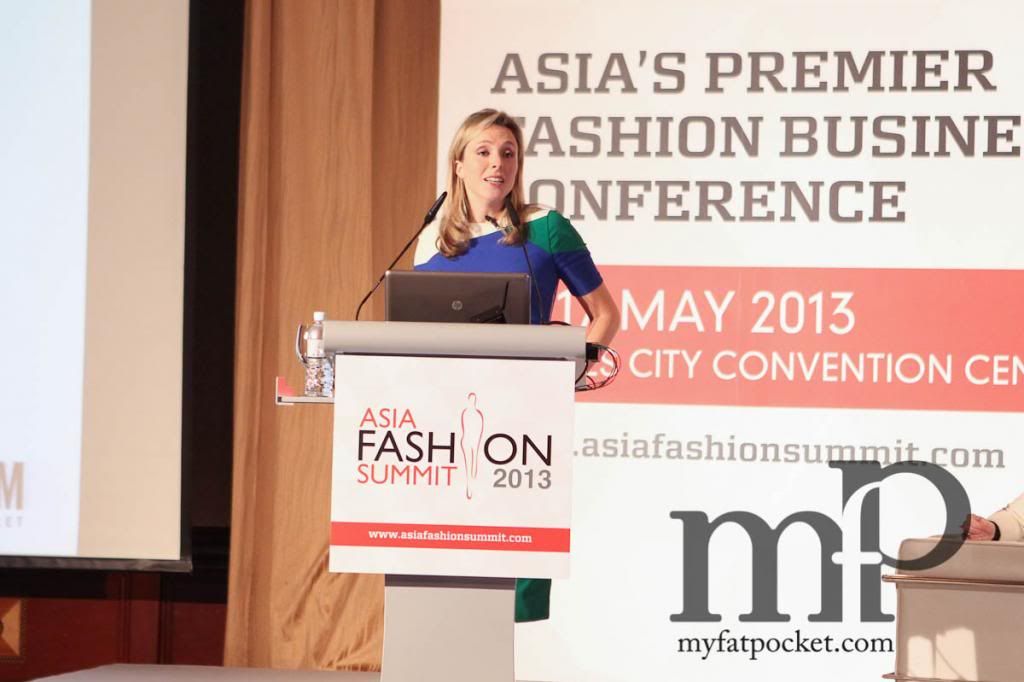 Stephanie Phair, Managing Director of The Outnet.Com, also mentioned that brand and vendor relationship is vital in determining fashion business success. Being online and mobile allows the brand to be wherever the customer is as this gives them easy access and with notification updates, customer retention can be secured.
Being relevant in content and keeping up with the trends is important to stand out from the competition with sales and product training playing key roles towards achieving the goal.
The importance of data and research seemed to be the key points with the next 2 guest speakers.
Malcolm Pinkerton, Senior Ecommerce Analyst of Planet retail gave insights into the habits of the fast evolving shopping trend while Zalora's Southeast Asia's Managing Director Harry Markl was very detailed as he presented data on the research success of his brand.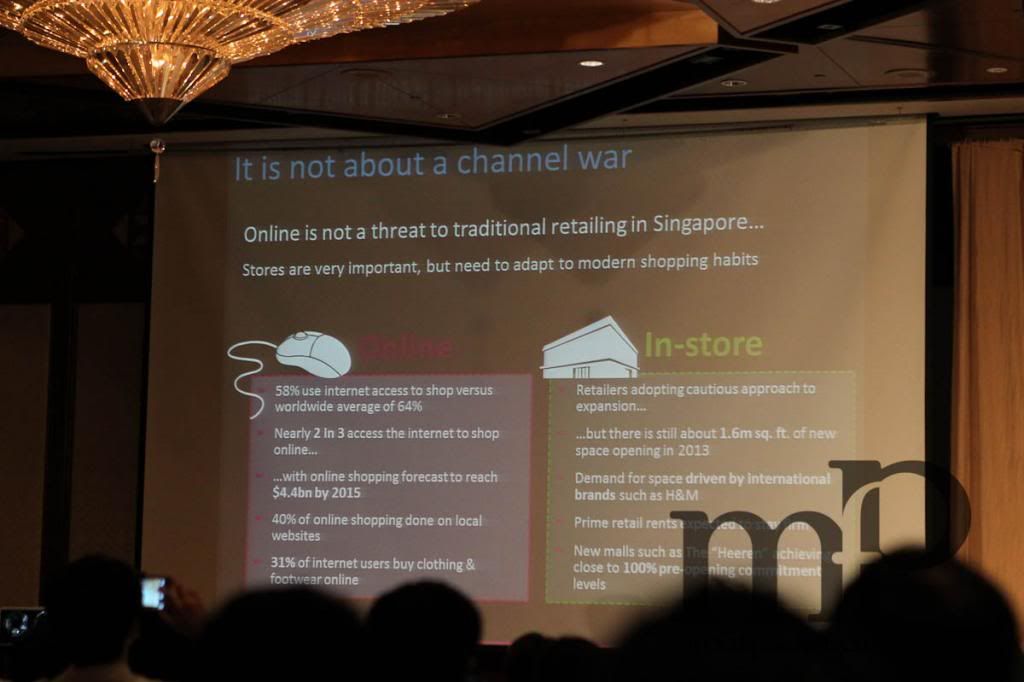 Throughout Day 1 of the Asia Fashion Summit 2013, the common emphasis was on elevating customer experience and staff service.
Top executives from global brands like Galeries Lafayette and Abercrombie & Fitch amongst others, gave insights into the success of their brands and with other guest speakers, they touched on subjects ranging from creating a compelling store experience to empowering service staff to facilitate the execution of a personalised and unique service.
Fashion is about inspiration and Day 1 is testimonial with the insights and knowledge shared by the host of guest speakers.
In the same breath, the same insights that were shared were also affirmations that fashion is, after all, also about business. The business of fashion.