The inspiration at Asia Fashion Summit 2013 Day Two continued with a host of speakers that included Ravi Thakran, Group President for South Asia, Southeast Asia and Middle East LVMH.
He spoke on the challenges and opportunities in today's retailing business and drawing on his personal experiences, shared in his knowledge on developing a luxury market in Asia.
Ann Kositchotitana, Founder and Managing Director of Front Row Group
With the changes in global economy, Ann Kositchotitana, Founder and Managing Director of Front Row Group spoke of how visual merchandising has helped in selling her brand's products.
She advised against having an unconditional attachment to the products one is selling as it is best to rid of things that do not sell, to cater to the needs and demands of customers. Collaboration is also important in business as Ann spoke about HEADLINE SEOUL, an Asian fast-fashion brand that's taken the world of fashion by storm, which she co-owns and co-developed.
The brand, barely a year old, has sparked interests and garnered franchisees in Singapore, Malaysia and the Philippines with The United States and China next on the agenda.
"Let me tell you a secret. To hire the best, you don't have to pay them a lot. As long as they believe in what you do, they will come on board." – Ann Kositchotitana
The importance of collaboration is stressed in Ann's example of key factors to consider when entering the China market. Having a local partner shortens the learning curve and this is vital as time is ultimately money. Pitfalls such as underestimating customers' intelligence must be avoided as respect is a key factor while having the right expectations allows a brand to evaluate its goals and achieve them successfully.
Continued revision of practises to tailor to customers' needs not only help build brand loyalty but trust as well. This trust is extended to one's own product where this belief and conviction can translate to recruiting the right service staff as well.
Mercedes Gonzalez, Director for Global Purchasing Companies
The ability to understand trends and to adapt to global changes and consumer demands can be the decisive factor in the success or failure of a brand. Mercedes Gonzalez, Director for Global Purchasing Companies piqued interests during her speech. Intelligent and eloquent, she noted how we keep looking to the past to create even though fashion as it's hailed, is about innovation. The notion of comfort in familiarity and how nostalgia seems to conger memories of better days is the factor behind the oxymoron. She reminded participants that traditional promotions have become stale and predictable; how the industry is too focused on running stores and therefor change is needed in this practise to skew towards the emphasis on engaging customers instead.
"Retail is over retailed", she pointed out and with a bold statement as such, it's not hard to fathom why Mercedes is a preferred speaker for a multitude of regional and international fashion events. She professes how product developments are killing designs and luxury for the sake of being expensive is not luxury anymore. Using the brands Ugg and Crocs, she states that Comfort is the trend. Retail needs a revolution she emphasised and change takes courage. She urges that brainstorming sessions which has become so academic, should be changed to dream storming where there are no limitations.
Hiring optimistic people was also a point in her speech where her statement about retail managers being glorified babysitters drew consensual laughters. Staff members are no longer pegged or perceived as their designated positions as buyers have become fashion editors and sales associates become stylists. This ensures not only a high standard of personalised service but also delivery with conviction when it comes to a brand's products and image. Abercrombie & Fitch was cited as an example where keeping a single voice with a clear image across all channels can benefit a brand.
A change though necessary shouldn't dilute the target by being too diverse in its audience choice. Mercedes stressed the importance to try and not be all things to all people as it's important to retain and increase core loyalty in a customer while increasing the aspirational ones. As with Ann Kositchotitana earlier, Mercedes also states that collaboration is key to growing market shares. In an age where customers are actually more time poor than money poor, factors like having a well curated collection goes a long way in customers decision making and because information is now instantaneous, it's essential to fully utilise online platforms to the best of one's business needs. Social media platforms like Facebook and Twitter have become the new complaint box and information gathered from these platforms are vital in evaluating not only one's business but also of the competition and this is important in the goal to stay heads above the rest.
Mercedes touched on a number of subjects and her fluid delivery of the topics she covered interspersed with humorous anecdotes and examples was a refreshing and insightful realization of the fashion business. Emotions and thoughts were positively stirred which cemented one of her points; creating emotion sells products as evident with diamond advertisements.
Daniel Saynt, CEO and Chief Creative Officer for Socialyte
The next speaker Daniel Saynt, CEO and Chief Creative Officer for Socialyte spoke of advertising and how developing a voice, personality and story for a brand sells. The brands we remember are the ones who tell a story and with the advent of the internet and social media, that story can now be shared and told globally around the clock. DNKY was quoted as an example of social media success with its arguably most popular girl in PR concept.
Via her tweets, followers were taken on a journey of sorts with backstage access behind the brand's fashion event for example and more. Followers lived vicariously through her adventures and this personal touch elevates a brand experience amongst consumers. Louis Vuitton has taken to another social media platform, Pinterest for experiments.
This allows the brand access to trends and needs of consumers globally. To look beyond models and celebrities in retail advertising is a formula that has been applied consistently. Memorable stories sell as they play on the emotions. But as evident with the DKNY PR Girl and the legendary Coco Chanel for example, Daniel also urged the importance to identify one's protagonist to make a great story.
True human emotions connect better especially and aptly on social media networks.
The Asia Fashion Summit 2013 was in many ways a refresher and reaffirmation of the fashion industry's prevailing and current practises. With its host of esteemed speakers, many from globally known brands and the topics they spoke about, there were also moments of revelations and new ideas which can only be beneficial for those in attendances. Being privy to brands' business mechanics were also inspiring takeaways for the summit's participants to ponder and even perhaps apply to their own businesses.
Hussein Chalayan, Fashion Designer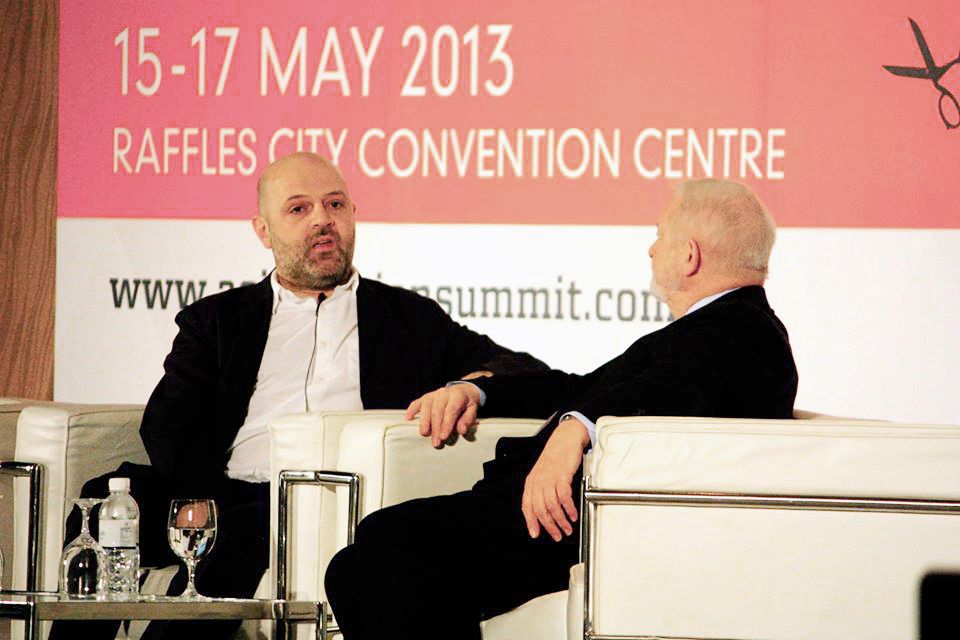 Panel and in conversation moments with designers such as Hussein Chalayan – apart from business owners and brands representatives – also helped those in attendance to better understand the nature of the fashion business. The global success references of brand names were useful in identifying avenues and issues to perhaps inspire Asia's own fashion business.
"I got a world view, really. What takes my time in the clothes is the technical side. I enjoy the fitting. I design the main line and there are other designers who help as well. The product is what matters the most. Even the stories can be very layered, what matters is you get an interesting object or garment."  –  Hussein Chalayan
Workshops that were held on Day 3 also gave participants an opportunity to engage and interact with others.
The Asia Fashion Summit 2013 was a resounding success.
It's heartening to note how the guest speakers were line-up as such there was a continual flow from one topic to the other. Through anecdotes and subjects touched on, the lessons learned will come in handy for retailers seeking a foothold or even to increase their brand's awareness and sales in the fashion industry.
It's about the business of fashion as fashion is ultimately about business.
With its emphasis on Asia, it was truly and so aptly themed, Asia's Fashion Moment.