Is cosmetic tattoo the answer to waking up looking beautiful?
Eyebrow tattooing is no longer just for older folks with sparse eyebrows but it is also becoming popular with the younger ladies too. What's more, cosmetic tattooing now does not stop at the eyebrows. Eyeliner and lips tattoo are the rage now.
And if you are one of those who are thinking about getting your eyes, eyebrows or lips (or maybe even a mole) tattooed, consider the pros and cons first.
Jackie Sitoh and Aileen Lee, professional makeup artists with more than 20 years of experience, weigh them for you:
The Pros
You don't have to draw your eyebrows and eyeliner, especially those with light eyebrow colour or those who have difficulty drawing their eyebrows.
Definitely saves time in your make-up routine.
Perfect for those who are physically unable to apply makeup.
Perfect for those who have allergies to makeup.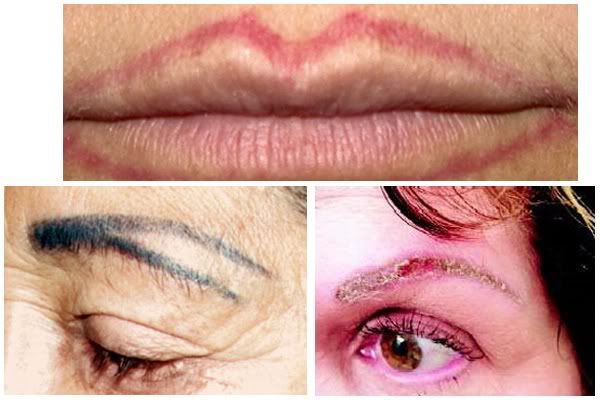 The Cons
If the eyebrows are not tattooed properly, you cannot change it.
As we get older, the top eyelid area will sag. So the eyebrows will droop too. While one can correct the eyebrow shape with make-up, you would probably need an expensive facelift if you have eyebrows tattoo.
Complications can occur –  spotty, irritated or infected.
If the permanent makeup needs to be removed, there are even more potential complications that may arise.
Cosmetic tattoo takes away the versatility in your look and restricts you to that one style. Forever.
Cosmetic laser is more costly and more painful than tattoos.
Eyebrow tattooing tends to result in brows of a greenish hue.
Some cosmetic tattoos are expensive and do not last long. At the hefty price you pay, it does not lasts for more than 2 years sometimes.
And if you decide to go for cosmetic tattoo, do not complain that your eyes or lips are "too dark," "of the wrong color," "uneven" or "too big" because we would just say, "Too bad."
Our last words – don't be lazy. Learn to apply make-up correctly. Correct your features in cheap and safe methods!