As a kid, boxing was the first ever form of sport that I came to know of.
My dad and his buddies would refer to boxing matches as fights and even the news would report them as boxing fights, which I found to be bewildering.
My definition of a fight usually involved kicking, head butts and the use of odd objects thrown in (and about) for good measure. But each time I watched the sport on TV, all I see are 2 guys using only their gloved fists to hit each other and if there was one thing that seemed odd was perhaps the little dance, the shuffle that strangely seemed befitting of everything else that was happening in the ring.
I was never allowed to go with dad to watch any 'live' boxing event as a kid. My mom would always have an excuse for me to stay at home (she did once say that if I'm so eager to watch grown men beat up each other all I had to do was to look out of our kitchen window. We lived in a pretty rough neighbourhood.) But what I did get to do was to head to the makeshift gym in the village where my aunt lived each time dad and I paid her a visit. The first time I stepped into the gym, a familiar aroma overwhelmed my senses. For some it was the stench of sweat but  it reminded me of dad's workplace, which he would bring me to 2 Saturdays every month. It was the smell of hardworking men, real men earning their keeps for their families. In this gym, not only did I witness men punching each other; they were hitting big stuffed gunny bags, mounted threadless used vehicle tyres and a whole lot of other contraptions that would make Dr. Frankenstein feel at home.
It was also at this gym that boxing introduced me to other sports. Not everyone there were boxers per se, some were sportsmen from other disciplines who found the sport to be rather practical in their own crafts. As my visits frequency increased so did my understanding of the sport. I realised that boxing wasn't just a sport – it was a science (of course, back then I didn't actually use that term). I began to truly appreciate the practitioners of the sport and the technical aspects of the sport itself. I started partaking in the sport and incidentally, by the time I donned the leather gloves for the first time, my mom had been more accepting of a fate that had been sealed since the first time she saw me glued to the goggle box fixated on 2 guys adamant on beating each other up.
Boxing has come a long way since but waiting for the starting bell even as a spectator still gives me the goosebumps.
This Sunday, August 21st, I'm going to be transported back again to when I was a wild-eyed boxing fan of a kid. As part of Active Fitness and Sports 2016, the Singapore Fighting Championship presents a night of 4 professional boxing bouts and 2 Amateur K1 fights that is a delectable plate of fight sport grub not to be missed.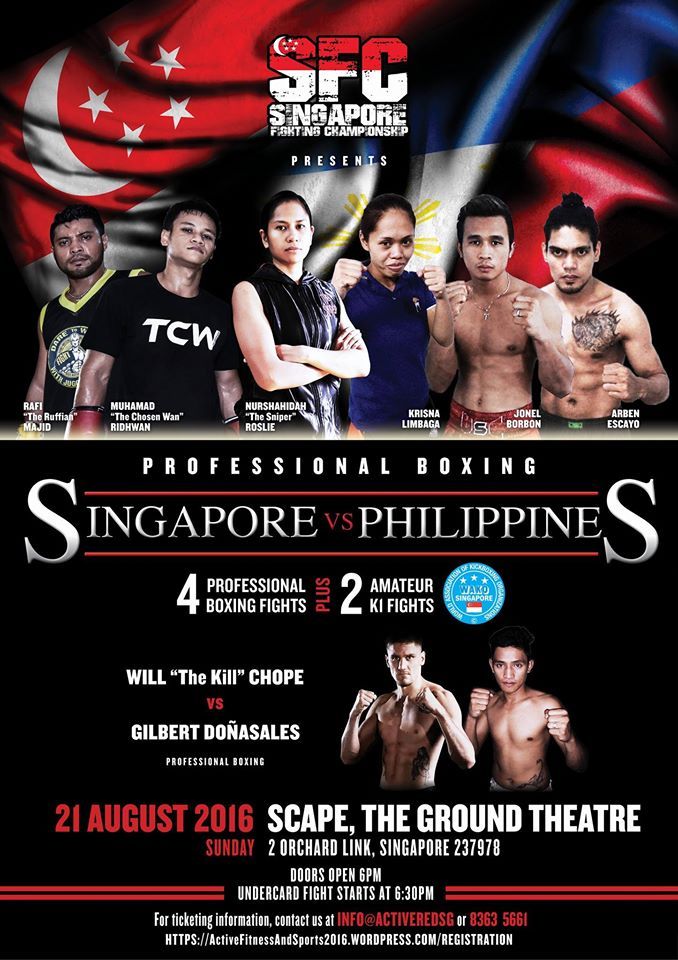 Billed as a "Singapore vs Philippines" event it'll feature amongst others, the Universal Boxing Organisation (UBO) Female Intercontinental super-featherweight title-holder and Singapore's first professional boxing champion, Nurshahidah "The Sniper" Roslie's first fight since winning the coveted belt. Also set to take the center stage is Legends Fight Sport's Muhamad Ridhwan, multiple SEA Games medallist who's putting his undefeated professional boxing record on the line yet again. I could rattle of more names but it's best to head down because at the end of the night, these names will be inked and etched into your personal sporting annals.
As I grew older I realised why it's called a fight. Nothing pumps up the adrenalin more than a fight and this Sunday, you will be in for a FIGHT!
For tickets click here.
More info head to Singapore Fighting Championship.