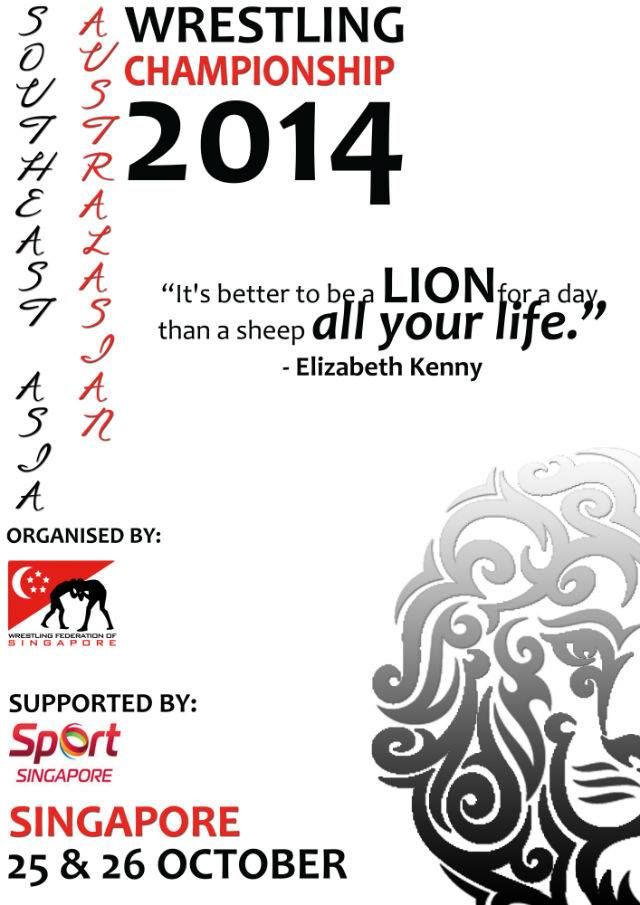 This event will feature wrestlers from Australia, Vietnam, Thailand and other countries from the region. But all eyes arguably will be focused on Team Singapore. As host and participating nation, Team Singapore has been working hard behind the scenes and on the mat to put on what promises to be an exciting and spectacular sporting first!
We spoke to 2 of Team Singapore members to find out more about their preparation and aspirations. Eddy Khidzer is no stranger on the mat and the wrestling scene. This super athlete has been meticulously dividing and balancing his time between school and training. Gabriel Huang is the Operations Manager and Youth Development coach at the Wrestling Federation of Singapore. Currently he is in Hungary after having been selected by the International Olympic Committee to attend the International Coaching Course (Wrestling).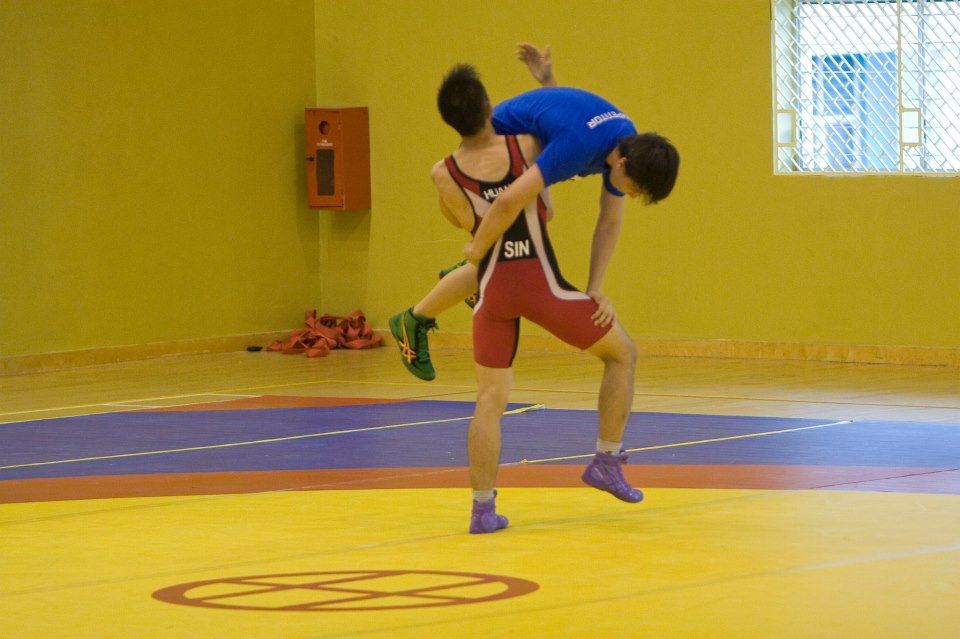 What have been the challenges in organizing and hosting this competition?
Gabriel: "Since I'm away in Budapest during the period leading up to the competition, it has been a challenge as I am up sometime as early as 4.30am (Hungary time) to discuss and make decisions on various issues with the rest of my team in Singapore. Here I would like to thank my team over in Singapore for the amazing work handling the bulk of the organizing challenges in my physical absence."
As for the athletes, how's the preparation going in Team Singapore camp?
Eddy: "The training for this SEAA championship has been an amazing one for everyone in Team Singapore! Everyone is pumped up and focused each time they step on the mat for practice."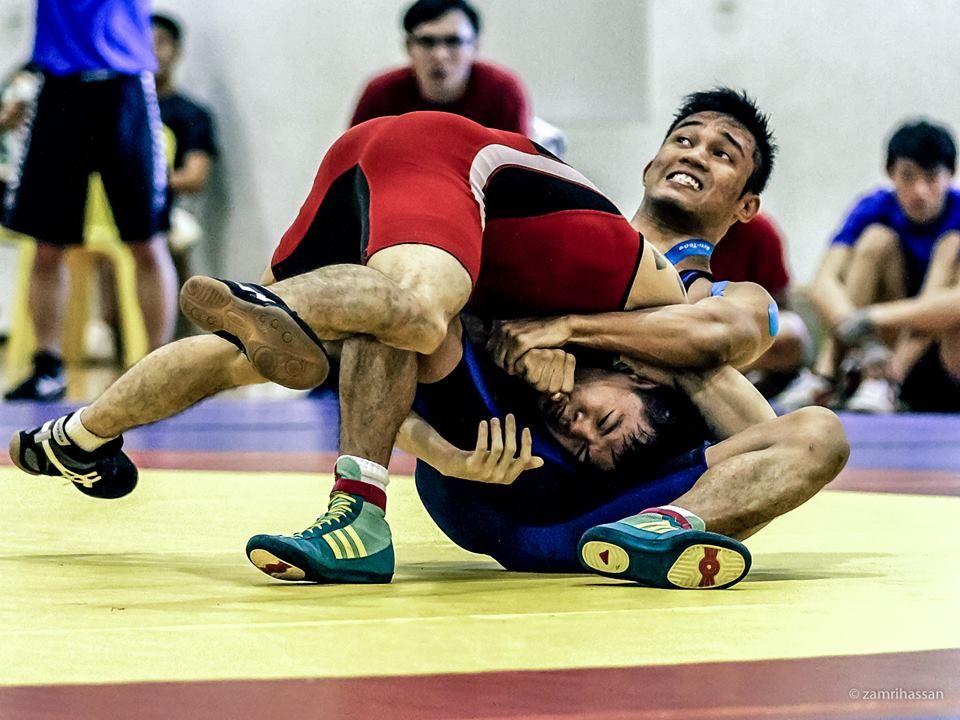 Photo: Zamri Hassan
Must be exciting times in the Singapore camp. For those unfamiliar, who are the athletes that'll be flying our flag at the competition?
Eddy: "We're pretty stoked! By far I think this is THE best Team Singapore wrestlers we've ever assembled for a competition. They are:
–        57kg: Professional MMA Fighter, Garie Tang will be making his first international wrestling debut. He will be joining me in this weight class.
–        61kg: SEA Games Bronze medalist and also a veteran of the sport, Aaron Koh. Alongside him in this weight class is Dominic Chen who will also be making his international wrestling debut.
–        65kg: Singapore's first Youth Olympic Wrestler and also the longest-serving member in the national team, Kester Leung.
–        70kg: 2014 Southeast Asian Junior Bronze Medalist and World Team Member, Toh Xin Ran and Dominic Marc Chen who will be making his first international wrestling debut.
–        74kg: Philippines National Games gold medalist, Lou Hong Yeow will be accompanied by National Champion, Looi Yuan Hui.
–        86kg: National Bronze medalist, Jeffery Tan.
Also not forgetting Asyraf Salim and Kaijun Loi who will be competing in the Greco-Roman division."
I can certainly feel the buzz! Is this the start of what could perhaps be an annual event?
Gabriel: "We are definitely keen on organizing a competition of this level annually however it may come in the form of another name. At present, we are lobbying to host the SEA championships with the participation of all South East Asian countries next year to replace the wrestling competition of the SEA games which our sport has unfortunately been excluded from for the first time since the last 7 editions."
Photo: Zamri Hassan
What's the goal behind this competition?
Gabriel: "The initial goal of the competition was as a lead up to and preparation for the SEA games. Though wrestling failed to make the cut in the final selection nothing has changed and in fact our goal has taken on a more significant meaning. We are still aiming to improve our organizing capabilities as well as in showcasing our local talents. The exclusion has made all of us more determined in a way. We will still put on an impressive performance and give our best every time; with or without the SEA Games."
Well said! That'll certainly rile up the fighting spirit and perhaps even serves as a reminder of Team Singapore's intent at this competition. Who are the athletes, amongst the other participating countries, that would perhaps put up the stiffest competition?
Eddy: "Obviously, the Vietnamese are without a doubt the toughest team in the competition and also a powerhouse in Southeast Asia. In my weight category, Vietnam is sending a guy that ranked 7th place at the Asian Championship. Also another wrestler to look out for is Alvin Loberguito of the Philippines, who edged out Gabriel Huang for the bronze medal at the 2013 SEA Games. I've been preparing for these two guys ever since the start of my training camp and am looking forward to put up a good match with them to get the win!"
Spirits are obviously high in the Singapore camp. Thanks for your time gentlemen but before you go, any parting words for the folks out there?
Eddy: For all the wrestling, martial arts and sports fans out there, I hope you guys could come down and give support to Team Singapore at the Southeast Asian & Australasian Wrestling Championship 2014. We've been working extremely hard day in, day out for the past 3 months and we can't wait to go out there and wrestle in front of our home crowd!
Gabriel: For wrestling, grappling and all sports fans, here is your chance to witness our National team at its best pitted against the best of the best in the Australasian region. After 6 years of hard work since our inception and 4 years since the conclusion of the 2010 Youth Olympic Games in Singapore, we are now pleased to unveil our National team on home ground. We are proud to say that we've had a fair amount of time and experience to build up from our past experiences and will put up a strong challenge against the other countries! Please come on down and support our 100% pure Singaporean wrestlers! Admission is FREE!
Wrestling may not be a dominant sport here but the spirit in Team Singapore- from the athletes to the organizing committee certainly shows that Passion, Dedication and Resilience are a plenty. These together with sheer hard work and determination can only pave the way to more success.
The boys have been working hard on the mat and the team at WFS has put in their fair share and more into organizing this competition. Let's hear it for them and HEAR IT LOUD!
Event: The Inaugural Southeast Asia & Australasian Wrestling Competition 2014
Where: Yishun Sports Hall
When: 25 & 26 October 2014