Physiogel Roadshow at Vivocity: Repair the Skin & Retain the Moisture!
Singapore's hot and humid weather is the reason people flock to seek refuge in the comfort of an air-conditioned building. Shopping malls, public transportations and even most school classrooms have been fully equipped with air-conditioning so unless you're outdoors, you would hardly feel the heat.
However, aside from prolonged exposure to heat and harsh cleansing agent as common culprits; dry air from air-conditioning is also the cause of skin dehydration according to Dr Joyce Lim, Dermatologist at Joyce Lim Skin and Laser Clinic.
A Nielsen 2010 Omnibus Study showed that in Singapore, one in five people suffer from dehydrated and/or itchy skin. Dr Joyce Lim also states that increased water loss from the skin called transepidermal water loss, (TEWL) can occur when harsh products are used on the skin or when the skin is irritated by ingredients in skin care cosmetics.
Choosing the right cleanser, learning the common ingredients found in skin care products and developing a regular cleansing and moisturising schedule are just some methods of proper skincare that leads to better skin.
Physiogel recently introduced bigger pack sizes, 500ml and 900ml for its cleanser. The hypoallergenic cleanser with a non soap formula cleanses thoroughly while maintaining the skin's natural moisture balance. It is also non-comedogenic, meaning it does not cause skin breakouts as it does not  block the pores of the skin and it is recommended for all skin types especially sensitive skin.
The cleanser can be used on the face and body; it's even safe to be used on babies. The Physiogel Cleanser 500ml retails for S$18.90 and it also comes in a 900ml pack size with a usual selling price of S$29.90.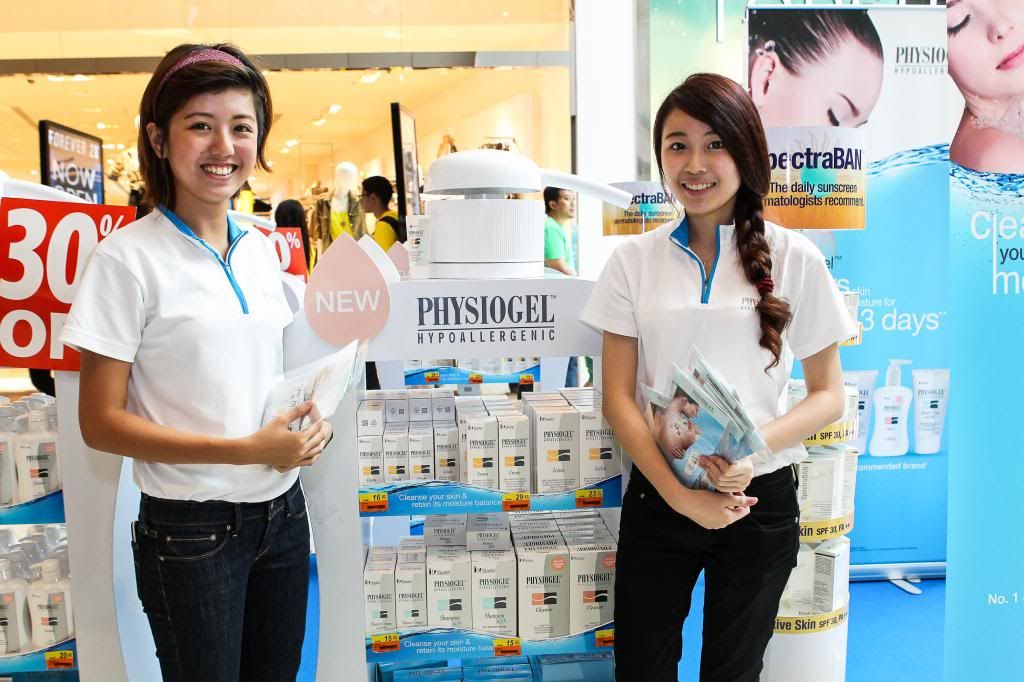 The Physiogel Skin Repair Roadshow was held at VivoCity recently. The event provided insights into the benefits of Physiogel products and consumers could redeem a free 300ml bottle of Physiogel Cleanser in exchange for any used cleanser.
Entertainment for the evening was provided by Class 95 FM's Glenn Ong and Yasminne Cheng and they sportingly partook in the Moisture Meter test as well.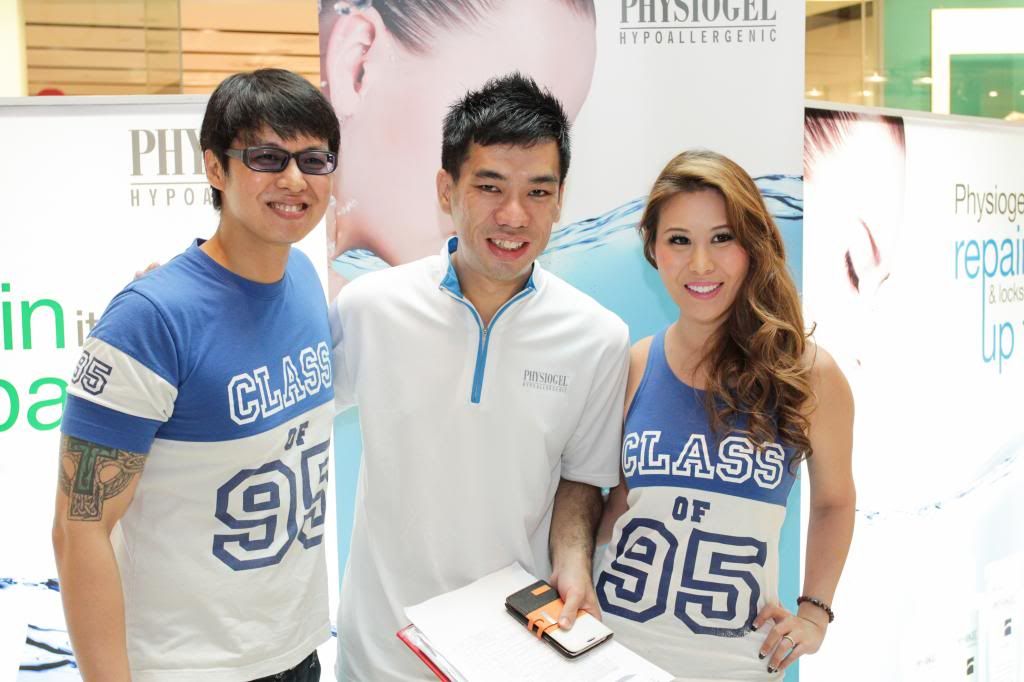 The Moisture Meter determines the hydration level of the skin with a score of below 40 denoting dry skin.
The fun-filled event included free Physiogel trial packs giveaways as well as 30% discount for product purchases made at the road show and a chance to win instant prizes.
Consumers were also encouraged to try the Physiogel products for a hands-on experience.
Consumers were also interviewed on their personal experience with Physiogel. Huirong Chua, a consumer who has been using Physiogel products for some time and loves the long-lasting and excellent moisturizing effect.
"I love how it's non-greasy and non-sticky and the way it leaves my skin feeling soft and smooth!" quipped the student cum blogger who gladly recommend the products to family and friends.
"The Essential of Skin Care" Seminar Series organized by Physiogel was held in conjunction with the road show at the Golden Village Cinema Hall 5 located in Vivocity.
A panel of medical experts made up of senior consultant at National Skin Centre, Prof. Goh Chee Lok; founder of Dr Patricia Yuen's Dermatology, Laser & Aesthetics Clinic at Paragon, Dr. Patricia Yuen; Dr. Jenny Tang of SBCC Baby & Child Clinic
Asthma, Lung, Sleep and Allergy Centre, and consultant dermatologist at The Dermatology Practice, Mount Elizabeth Novena Hospital Dr. Lynn Teo dispensed advice and practical tips on topics that included sensitive skin, dandruff prevention, sun care and children's eczema.
Those in attendance learned about the causes of sensitive skin that includes Atopic Dermatitis, Allergic Contact Dermatitis (ACD), Steriod Facies and Dry Skin and how to choose the right skin care products to moisturize and repair dry skin.
The issues of dandruffs were discussed and the myth surrounding it to be contagious was put to rest. Advice for sufferers was also dished out along with recommendations on choosing the right product to help keep the problem under control.
The harmful effects of ultraviolet and sun protection were also discussed, where the importance of not only choosing the right SPF in sun protection products matter but the effectiveness of proper application as well. The insights proved to be enlightening and highlighted issues that were often overlooked in importance.
In Singapore, one in five children suffers from eczema. Dr. Jenny Tang mentioned that this chronic inflammatory skin condition proved to be a topic of interest especially among parents with kids in attendance. The daily care guidelines and treatments available for this condition were shared via the informative session.
Through questions and answers sessions conducted at the end of each presentation, the panel of expert speakers were able to provide more specific insights. The seminar proved a success in terms of information dissemination in regards to the topics discussed.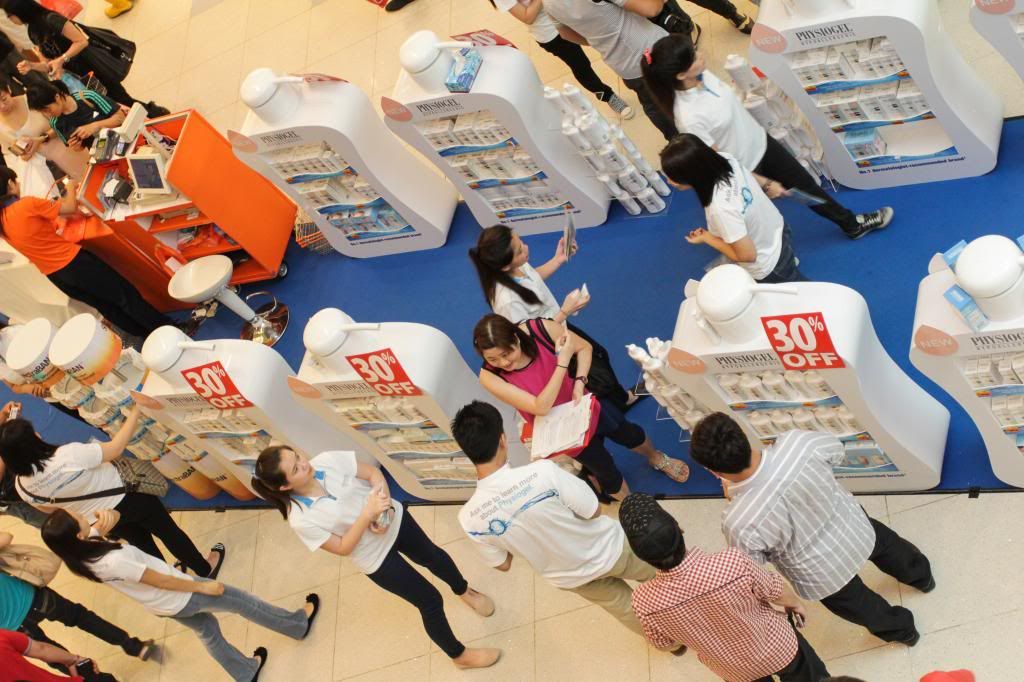 The Physiogel Skin Repair Roadshow and "The Essential of Skin Care" Seminar Series reflected Physiogel's intent in relaying important information and tips on skin care to consumers.
With its array of products, Physiogel proves to be the solution for all skin type needs and the success of its road show and seminar cemented Physiogel's presence in the skin care industry.