"The Baking Steel."
– John A. Dole IV, founder of John's Pizza, on making great homemade pizza.
Whether you're ordering up a pie or a slice, you won't leave no bones behind when it comes to good pizza. Pizzerias are a dime in a dozen but it's not just about slapping out some skin or piling up the mutz – and for those very same reasons, good pizza is not easy to find.
John's Pizza may be the new kid on the block in these parts but its owner, John, is far from a pizza grom. We caught up with him recently after a successful run at local food fair to find out more.
Supsup John, what inspired you to start John's Pizza?
"About 3 years ago I was staring at a two below average 11 inch pizzas we paid $50 for, for the 10th time, from the 10th different restaurant and I finally had had enough. I told my wife I was going to learn how to make great pizza at home."
"I just started trying things…"
"For the next 6 months I watched every YouTube and read every recipe or blog I could find about pizza making. There were many and all were some variations of the Italian or New York style. I wanted more of the NY style. I just started trying things, torturing my wife a bit with large quantities of average to below average pizzas (but we had been paying 50 bucks for that anyway!)."
"Eventually I found the key to making great pizza at home – The Baking Steel. A lot of people use stones (and while those work fine) but if you want to get that extra umph, you gotta use steel. At the time I had to order it from the US but now its sold locally. I highly recommend it.
I kept getting better and better and then in March of this year, I was in between jobs and decided to try selling a few pizzas to the people in my apartment complex. I wanted to see both, if I could simply produce that much and if other people besides my friends and family really liked it. I already knew I was producing a solid product because while I'm picky about my pizza, my wife is both picky and has a sensitive palate – I was passing her test. I even got a subtle "Wow(!)", out of her…*sniffle sniffle*."
… & the response?
"The response was fantastic and people were really excited about it! After doing it a few times, I started to look around for ways to expand. As they say, once you open yourself up to the world, the universe conspires to help you. It wasn't long before I found a friend who wanted to share a space. After getting all the maths worked out, it still made sense and off I went!"
For the uninitiated, what's an "American style" pizza?
"Great question! American style pizza is more flexible than Italian style. With Italian, they do the less is more style, with a few high quality ingredients. I love that too, but American style is comfort food. With American you can do deep dish, semi-deep dish, cracker thin or of course NY style. The toppings are in greater quantity, the cheese is shredded block mozzarella, and the sauce is slightly sweet with lots of spices in it."
"True NY style is either made with instant yeast or an overnight starter."
Are yours of the New York style?
"NY style dough is thicker and lends well to picking up and eating. I don't call my pizza NY style just because my pizza is made with a sourdough starter. True NY style is either made with instant yeast or an overnight starter. Plus they add sugar or honey to both the dough and the sauce to add a bit of sweetness. I don't add any sugar to my pizzas. I like to keep sugar out of my main dish and reserve it for dessert."
You recently had a run at the Takashimaya Food Fest, how was the reception?
"The reception was amazing! People were so excited, and even shocked when they tried the pizza. I had one American guy from Brooklyn stop by and was skeptical at first, having been let down so many times in the past. We chatted a bit and he took two slices to go and walked off. About 15 minutes later I saw him coming back down the escalator shaking his head. He came back to me and said something on the order of, "Man, that's the best pizza east of New York. I'll take 1-whole pepperoni to go." That right there blew me away. As an American, having lived in Singapore for 7 years now, I have longed for some solid American style pizza out here. Now to be producing it myself is just awesome."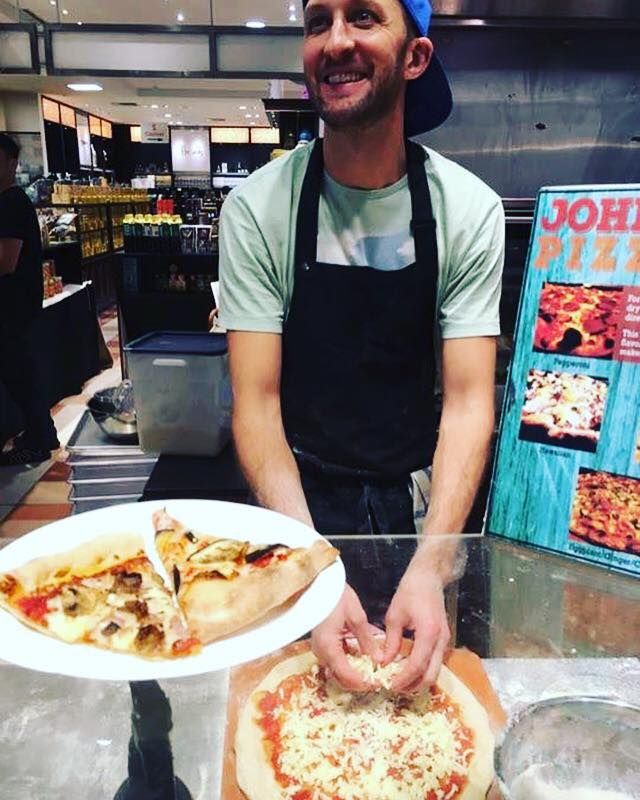 Which John's Pizza creation would you recommend to first time customers & what others have you got baking in the oven?
"Pepperoni! Real pepperoni doesn't exist here in Singapore. I have to fly it in from the US. Here you have either halal or spicy salami masquerading as pepperoni. Real pepperoni is dry aged and has a spice to it but is not hot. There is truly nothing like real pepperoni."
"I will be doing the full suite of classic American pizzas eventually, but for now I am starting with the basics. Pepperoni of course, Supreme, Sausage and mushroom, NY Cheese, and Hawaiian. Eventually I will add a white pizza, and a few others."
If that doesn't whet an appetite, we're not sure what would! For your own appetite, what is a "must have" in good pizza?
"Balance. You should say that everything from the crust to the sauce to the cheese to the toppings were solid. They don't have to rock your world but they should all be pulling their weight."
Where & when is your store opening & do you have any home delivery plans lined up?
"The store will be delivery and takeaway to start, with a few seats for anyone who wants to eat it there. It will be whole pizzas only, to start with anyway. I will be delivering via Uber Eats first and likely add the others later. The shop is located at 462 Crawford Lane, 190462, Unit 02-31. I am currently working through some clerical issues, but plan to start pumping out delicious pizza by mid to late August."
Give us a tease, a taste, a tease of why the folks out there shouldn't be missing out on the John's Pizza taste.
"Because it is by far the best American style pizza in town!"
Follow John's Pizza here.
Photos: John A. Dole IV, John's Pizza