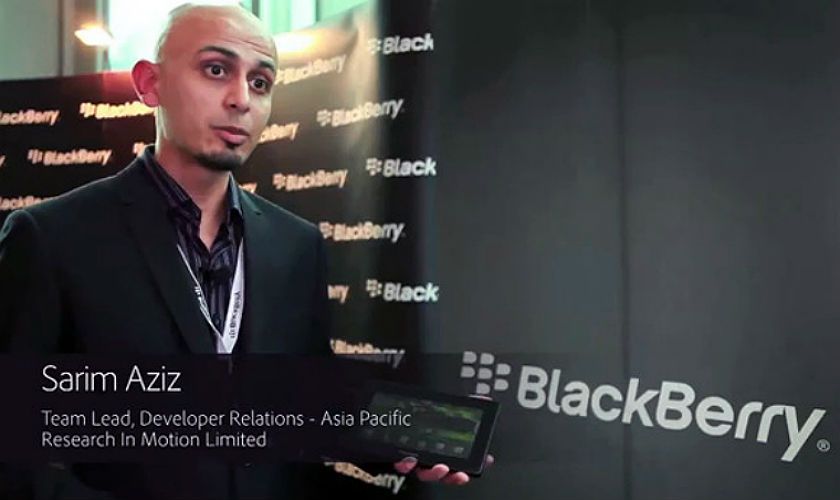 Sarim Aziz is the Team Lead for Research In Motion's Developer Relations Team. He joined RIM in 2004 and with over seven years of experience in the mobile application industry, he lives and breathes mobile technologies, and truly believes a mobile app can help solve any problem.
Sarim's background consists of a degree in Computer Science and Software Engineering, and his specializations include multimedia, performance, optimization, and what it takes to make a Super app!
Sarim Aziz rides the mobile wave on how startups are changing the mobile landscape at Echelon 2012.
What is RIM's direction for the next six months and where does RIM see itself in the next year?
RIM is using the next few months to focus preparing for the company's most dramatic and significant launch to date – the bringing to market of BlackBerry 10. With our developer community, we aim to establish a healthy ecosystem that brings amazing experiences to customers using BlackBerry 10.
What are the opportunities on the BlackBerry platform and how will the BB10 enhance this?
We always believed it but the data out there speaks for itself. The BlackBerry platform has become one of the most profitable platforms for mobile developers.
BlackBerry App World has more paid downloads per month than the Android market. (Yankee Research Group). In Q2 2011, BlackBerry App World generated 43 percent more average daily downloads per app than App Store (research2guidance). We offer Carrier Billing which has proved to dramatically increase the download numbers, and is available on 40 carriers in over 36 countries.
How is RIM differentiated from the other players like Apple and Google and how is this beneficial to developers?
We understand that forcing developers into a single proprietary development framework is not in their best interest. Our developer tools have evolved to meet the needs of developers from different backgrounds such as web, native, gaming, etc. We are committed to our developer community and have made it much easier for them to debug, test and build in graphics and UI elements with cutting-edge tools and technologies such as Cascades, Ripple and open standards such as WebGL and HTML5.
The public thinks that BlackBerry is a diminishing platform, what is the true story behind this?
Our ecosystem stats say otherwise. In the last quarter of FY2012, Vendors registered in BlackBerry App World grew by 68 percent. Applications submitted to BlackBerry App World grew 42 percent. BlackBerry PlayBook apps alone grew in submissions by 240 precent which demonstrates tremendous interest in the new BlackBerry 10 platform. Apps for sale in BlackBerry App World grew by 27 percent again showing that developers are continuing to successfully monetize on our platform.Other than being a supporter of tech events like Echelon, where does RIM see itself coming in to support the regional developers?
We have several global and regional programs to engage developers across Asia. We are focused on building new and supporting existing developer communities in many countries.  A few weeks ago we had our global developer launch for BlackBerry 10 in Orlando, FL where we had a strong showing of developers from across the globe. We are now taking this on the road and going through several cities in Asia to bring BlackBerry 10 to the regional developers. Last, but not the least, we are looking forward to another successful BlackBerry Jam Asia developer conference later this year.
For a developer deciding which platform to build on, what would RIM's pitch be to him/her?
Developers are smart. They like to make their own choices when it comes to choosing the best tool or platform to do the job. That's what the BlackBerry 10 platform offers them: a familiar environment, yet powerful set of tools, frameworks and services.
Secondly, developers like to know that their intellectual property will be protected, yet easy to discover. BlackBerry App World offers them both, and we work hard to help promote content our users want.
To close off, we will continue to invest heavily into the developer ecosystem to ensure BlackBerry developers are successful.  As an example, BlackBerry 10 applications that meet certain guidelines will be certified by RIM when they are posted for sale in BlackBerry App World. These certified apps will be guaranteed to see a revenue of $10,000 in the first year. This shows our confidence with the new platform and the importance of developers as part of the success mix.
Sarim Aziz (Team Lead, Developer Relations Asia Pacific at Research In Motion) is one of the awesome speakers at Echelon 2012. This tech conference is a two-day, double-track event on 11 and 12 June 2012 with over 1,100 delegates, a demo pit of up to 50 regional startups per day and various workshops.