Creativity stems from inspiration and most often, inspires in return.
We recently caught up with a young and talented artist/illustrator who first caught this writer's eye with his skateboard art.
Fill us in about yourself & what you do.
"Hey everyone, I am Toby, and I go by the artist moniker tobyato. I am a young aspiring illustrator and a current undergraduate studying visual communication at the School of Arts, Design & Media at Nanyang Technological University. I am also a firm believer that we are all kids with grown-up powers. Currently, I do freelance illustration work including wall murals and the occasional skateboard deck customization."
What got you into art/design & how would you define your style?
"Drawing has always been a passion of mine, ever since the days of drawing Pokémons for my classmates in primary school. But I only made the choice to pursue art whole heartedly 2 years ago, and I haven't looked back since."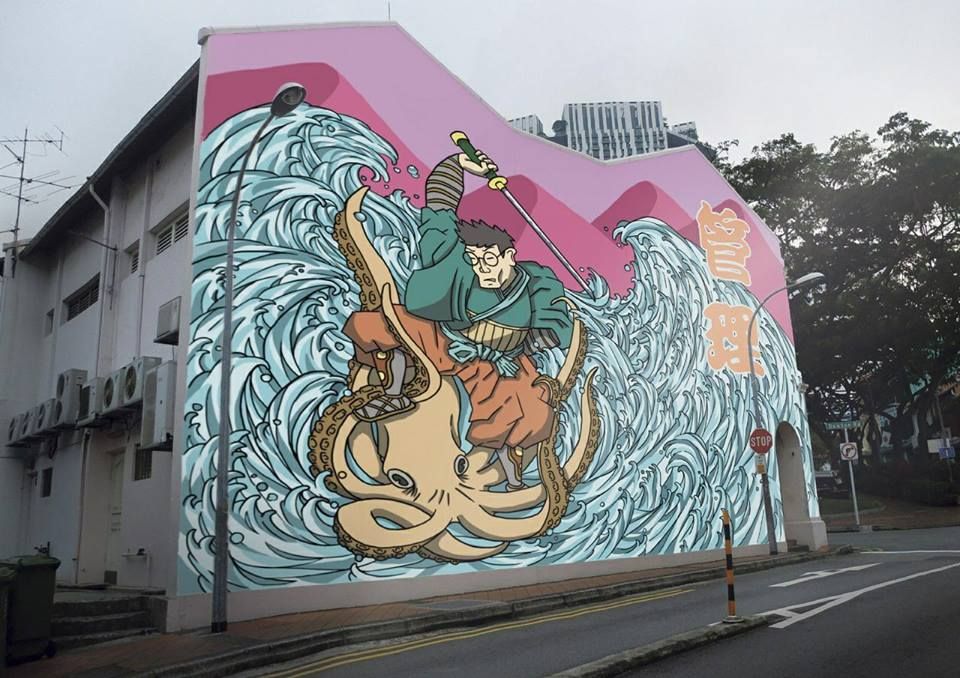 "Personally, I feel that a style is something that takes years to achieve, and I dare not claim that I have a style, at least not yet. However, I do tend to lean towards Japanese influences. I also have a peculiar fondness for lines, and as a result, I incorporate lines into most, if not all of my work."
Let's hop onto your (skate) board creations. Suffice to say, they are sick! Is there a reason behind your affinity for Japanese art?
"Glad you like them! Well, even before I made the choice to pursue art, I have always loved Japan, from its food to its people, and of course its art. I can go on and on about the things that make me love Japan, but to me, there is just something about Japan that takes it a step above everyone else. I haven't quite found out what that is yet, but that something is the reason why I love Japan and its aesthetic so much."
"My artist moniker "tobyato" comes from the Japanese words: トビー・アートTobī āto, which very crudely translates to Toby's art. Sometimes as a little joke, I introduce myself as half Japanese to people that I meet for the first time. My small eyes make for a convincing story."
Fill us in on the creative process behind one of your designs? How long does it take from start to finish in general?
"Each design is different. As such, I approach each piece differently as well. However, to be honest, like most artists, I cannot say that I have a fixed system or a series of steps I religiously follow. My workflow is rather fluid and I constantly jump from one thing to the next."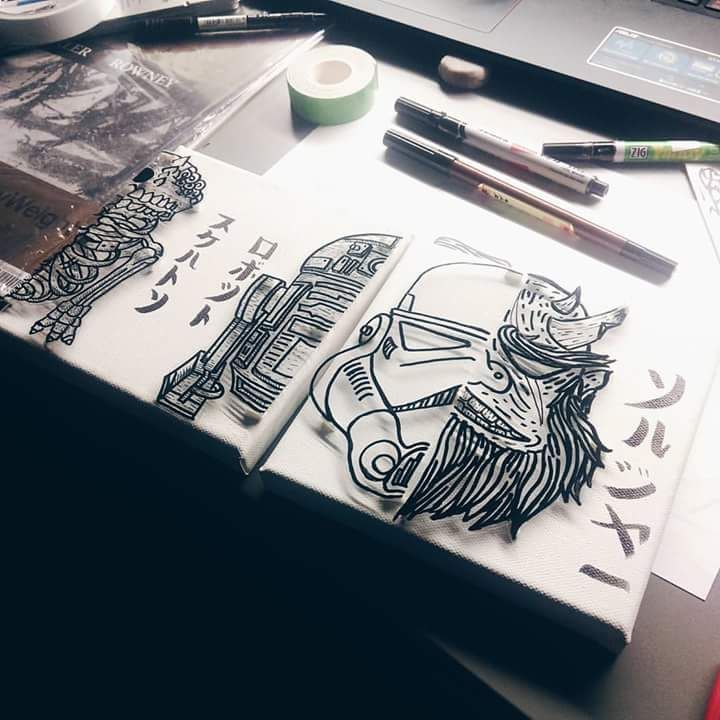 "I usually like to start every project with thorough research."
"The visual research serves as a means for me to set my art direction and for me to get excited and passionate for the project ahead. For my recent skateboard deck series, after the research phase, I decided to make a series of skateboard decks featuring different forms of Japanese art, from traditional ukiyo-e prints to Japanese craft dolls like the daruma."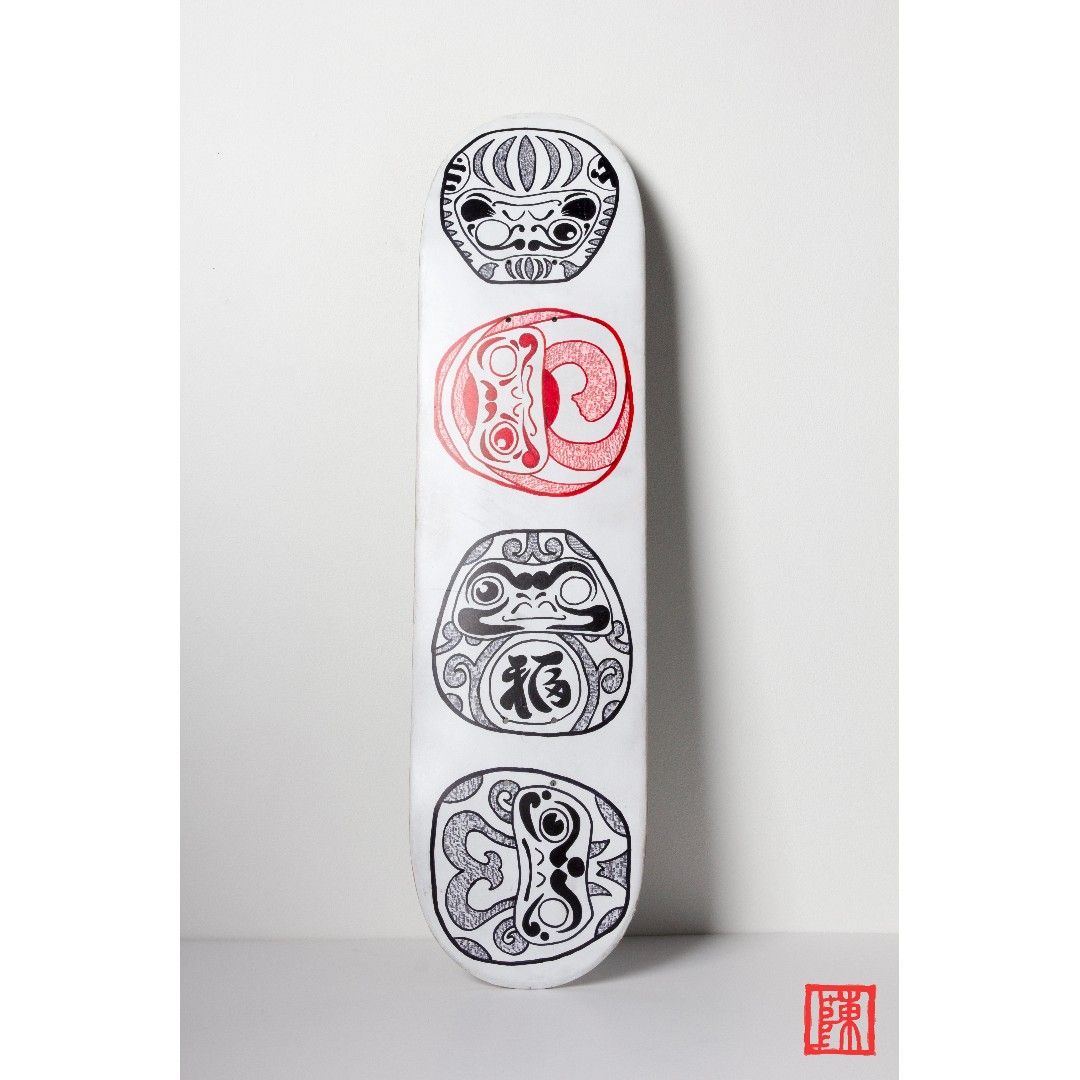 "With the idea of incorporating Japanese art in mind, I started sourcing for the skateboard decks, sanded them down and sprayed a few base coats of white. Following that, I began sketching with pencils."
"From start to finish, depending on the design at hand, one deck took about 5-7 days to complete."
"Once I was satisfied with the sketch and composition, I began inking the design with various markers to achieve different line weights and contrasts. The last step of the process was to lock the design in with multiple coats of a clear matte spray. This not only protects the design but also gives the deck a sleek matte finish."
Drop us some background on the "Yuckimeshi" collective.
"I started Yuckymeshi with my friend and schoolmate, Ong Yi Teck. Driven by our passion for illustration, Yuckymeshi is a collective that experiments with various forms of illustration, from the digital medium to traditional wall murals."
"The brand is an amalgamation of our identities."
"A combination of the love for fried rice and Japanese aesthetics, Yuckymeshi, or more correctly spelt, yakimeshi, refers to Japanese fried rice. Much like how fried rice is prepared by mixing a variety of ingredients together, they blend different styles together to create its own unique illustration and flavour."
"As of now, we have worked on some mural projects. We are also making plans to expand into other forms of illustration soon and we welcome any collaborations or commissions. Interested parties, please feel free to contact us at yuckymeshi@gmail.com."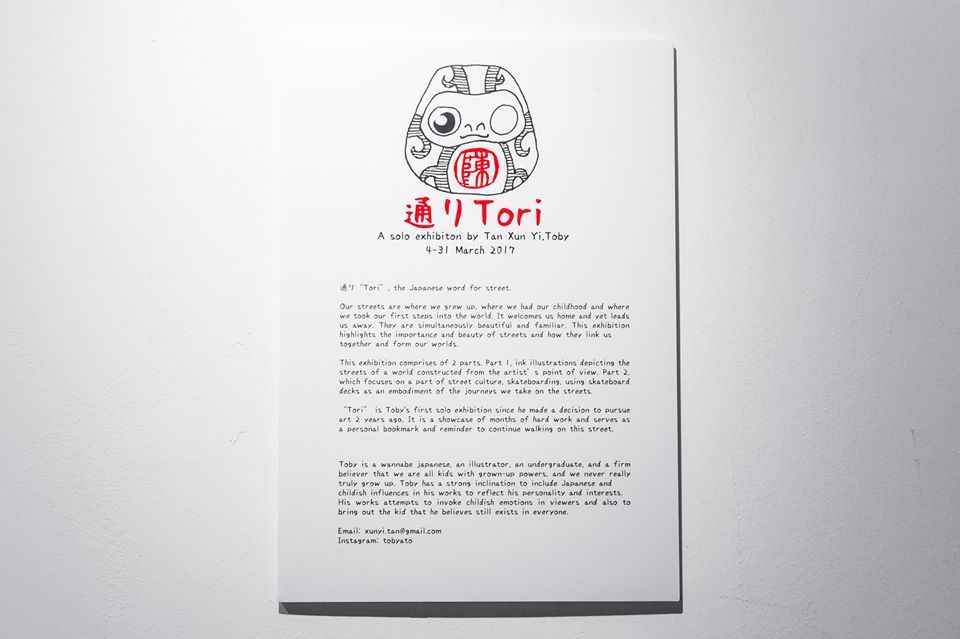 You've held exhibitions in the past – any likewise plans or shows coming up? And do you organize/conduct art classes?
"Till date I have had the honor of having 2 solo exhibitions, one in Singapore, and another which recently concluded in Penang, Malaysia. I have a few ideas in mind for upcoming shows but nothing concrete as of yet."
Follow Toby's instagram here
Follow Yuckimeshi here
Photos: Toby & Yuckimeshi