Photography. Emotions and intensive experiences spelt in photographs, connect and spur personal engagement between pictures and viewers.
Emotional Photography
Defined as an emotional connection and bonding, emotional photography somewhat has no definition or act of studies in application. Composition in itself may show portraits, landscape and even street and lifestyle. Aesthetic appreciation is the enjoyment of form and beauty in itself; the satisfaction one gets from a perfectly composed scene, which evokes the sensation or triggers, reciprocate immediate emotions.

Composition
Beauty of composition is subjective, both aesthetically and technically.
Emotional photography may be driven at an angle for commercialism, or not; mainly advertising photography, editorial photography, photojournalism,portrait, wedding photography and fine art photography. Often paid photography; product and building shots, have an absence for creative aesthetic beauty because for most clients, commercial shooters are the execution guys, never the inspiration.
Aesthetic Appreciation
Emotional aesthetic is communication – an intelligent simultaneous appeal where the order or combination of experiences enfolds; recognising faces, threats, mountains, sky, and so forth. Emotional photography are motivations and symbols of metaphors. To explore the small lacuna of "spiritual beauty" of subjects is to really capture the whole intensity of your viewers are also not mere emotion of, "Wow" and "Whoa" but to resurrect the experiences of oneself, to activate that knee jerk reaction.
Emotional Connection
The presence of metaphors and, a resurrection of memories and experience that speaks to us in whispers and inaudible conversations, enabling interconnection to subjects in pictures, forgoing other photography essence e.g. technical fluency and redundant colour corrections.
The Common Flaw
It is not about compromises on lens razzmatazz specs for lightweight simplicity or low noise, poor focus and bad lighting photography, or issues of lack of pixilation, vignetting normal colour, great resolution… Perfecting the technical side of photography instead of invoking the viewer and to technically perfect image is already a failure of form and a cause for frustration caused by negating aesthetic aspirations: Often redundantly touching on composition, lighting, feel of a photo, low noise and sharp focus, lighting, etc.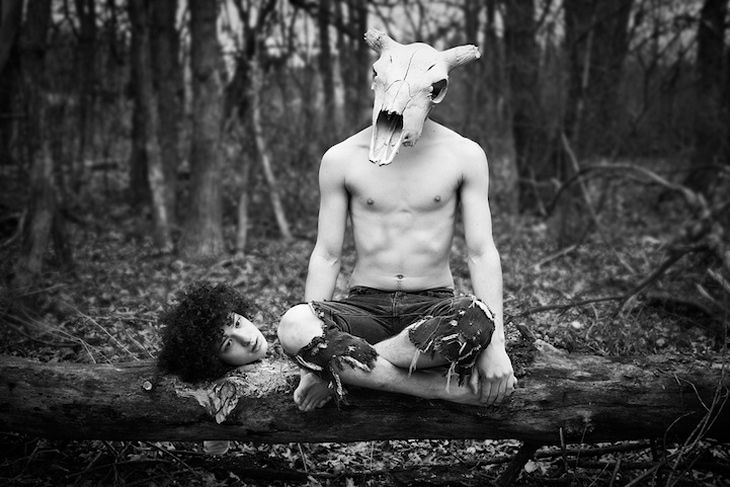 The Aesthetic Flaw
The common aesthetic flaw is a flood of overwhelming concern with technique and technology or any concern with the aesthetic or artistic aspect of craft does not necessarily defy point of reason: the point when one has mastered the technicality of photography and ignores emotional response.
An eruptive emotional experience. In other simple words, a photography turn-off.
All mind blowing surreal photography of Faceless Men by Minnesota-based photographer, Bryan Durushia.
Tags
Advertising & Marketing
,
Aesthetic Appreciation
,
beginners camera
,
Bryan Durushia
,
canon
,
Composition
,
Content Management
,
Content Manager
,
Copywriting Portfolio
,
Design & Arts
,
dlsr
,
Emotional Connection
,
Emotional Photography
,
how to take a good photo
,
nikon
,
which camera is the best for photography